RWS Street Eats 2018 Showcases 29 Iconic Southeast Asia Hawker Delights!
Resorts World Sentosa (RWS) brings back its popular food event 'RWS Street Eats' for the second year ongoing until 19 August 2018. Held at the Malaysian Food Street and the Waterfront at RWS, the 11-day event is a rare assembly of renowned hawkers and eateries from Malaysia, Indonesia, Thailand, Vietnam and Singapore under one roof, whipping up authentic Southeast Asian delicacies, offering tantalizing hawker fare, snacks and desserts – making 'RWS Street Eats' a must visit for the whole family.
Created to celebrate Southeast Asia's diverse and delicious array of local food in one venue, there is a total of 29 stalls. In addition to the ever popular stalls at Malaysian Food Street, 21 new stalls are specially brought in for the pop-up event – of which 11 stalls will be helmed by invited overseas cooks from our neighbouring countries. These new stalls will let both Singaporeans and tourists discover and sink their teeth into their coveted dishes without having to travel beyond our shores.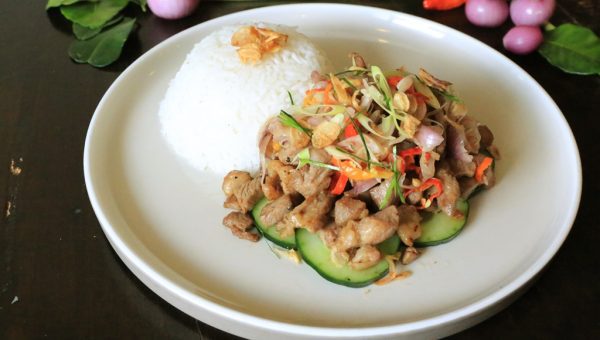 Overseas stalls to look forward to during this limited period include Pork Star Bali from Indonesia, famous for its melt in the mouth Balinese style pork dishes; Waroeng Kita, one of Jakarta's most popular restaurants, will be dishing up their delicious East Javanese style Ayam Penyet Belado (smashed fried chicken with spicy sambal); Hong Cha from Kuala Lumpur, Malaysia, which draws crowds hankering for its tasty Pork Noodle Soup; Baan Phad Thai from Bangkok whose version of Thailand's national dish – made with a secret sauce that comprises 18 ingredients – is voted as one of the best in Thailand; and Bánh Mỳ P from Vietnam whose fluffy yet toasty Banh Mi (Vietnamese sandwich) is much raved about and is a must try for any visitor to Hanoi.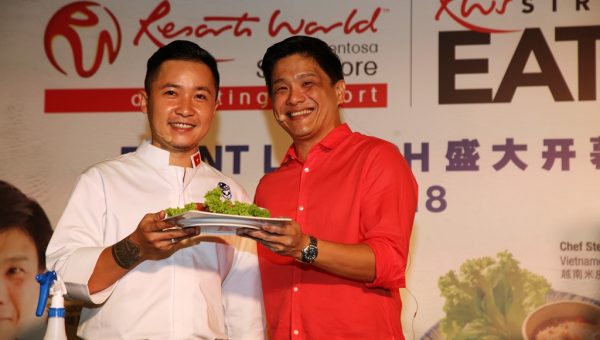 Special guests cooking at 'RWS Street Eats' this year include the highly-acclaimed Top Chef Vietnam 2014 finalist – Chef Cam Thien Long, also known as Chef Steven Long, who will be showcasing his popular Pho Bo and Vietnamese Summer Rolls, as well as Chef Zainal Abidin and Chef Mohd Fairus from Malaysia, who have captivated crowds around the region with their Flying Roti Canai.
Besides the wide range of hearty savoury eats, a pop-up Tidbits Lane along the Waterfront promenade adjoining Malaysian Food Street offers a variety of delicious snacks and desserts. Make a beeline for irresistible treats such as the pretty handmade Ang Ku Kueh (Chinese pastry with glutinous rice skin wrapped around a sweet filling) by Kueh Ho Jiak, Martabak Manis(Indonesian pancake) by Pancake Boss, and the refreshing Melon Bowl with Soft Serve Ice Cream by The Wicked Cream Co. All these special additions are not to be missed!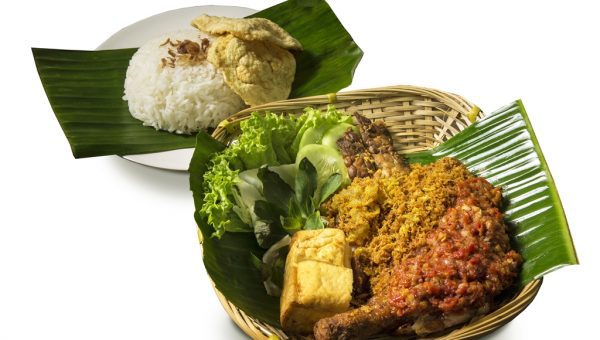 Entry to 'RWS Street Eats' is free. Dishes are priced as low as S$2 with the average dish price at S$6. From 25 June to 8 August 2018, purchase an Early Bird Special package online at www.rwsentosa.com/streeteats and receive goodies (limited daily quantities) worth over S$20 which includes S$8 event meal vouchers, a complimentary can of Coca-Cola (with an option to top up S$4 for a Tiger Beer) and gifts from Tupperware, Win2 and Tong Garden.
'RWS Street Eats' is ongoing till 19 August 2018 and is open from 11am to 9pm from Mondays to Thursdays, and 9am to 10pm from Fridays to Sundays and on Public Holidays. Drinks, Phad Thai, Flying Roti Canai, Ayam Penyet Belado and Sempalit Curry Chicken are available daily from 9am. All other stalls are available from 11am. *Malaysian Food Street will be closed for a private event on 18 August (3pm to 10pm).